As many readers of detective fiction know by now, Soji Shimada (western version of his name) was instrumental in the revival of honkaku, the Japanese equivalent of fair-play Golden age writing, starting in the early 1980s. LRI has published three novels and a short story collection in this vein and another novel is underway (for which he has already written the introduction!)
I feel very fortunate to count him among my friends; there is a not a kinder or more modest individual on the planet, even though his The Tokyo Zodiac Murders is widely regarded as an epic of the genre, and there have been multiple screen and TV adaptations of his works. So it was a great pleasure for my wife Helen and I to have lunch with Soji, his wife Masae and his daughter Yuko during their recent trip to New York. The three lovely and gifted ladies are, from left to right, Masae, Yuko and Helen. No prizes for guessing which of the men is Soji.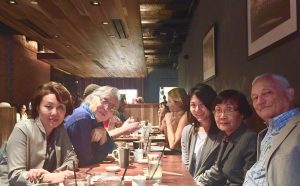 I presented Soji with a copy of the anthology The Realm of the Impossible, in which his own story, "The Locked Room of P."–translated by Yuko–appears. He was pleased to see it was the last story in the book, which in Japan is reserved for the best.