Articles (and a Broadcast)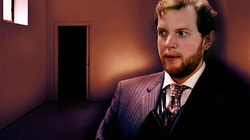 First, the broadcast: On May 21, 2012, BBC Radio 4's Miles Jupp presented a 30-minute programme on locked rooms, the third in a series of fairly light-hearted treatments of mystery themes. Interviewees were: Mike Ashley, Paul Doherty, Bob Adey, Christopher Fowler, Jasper Fforde, Paul Halter, John Pugmire, Soji Shimada, Denise Mina and a representative of a mainstream publishing house who, true to form, said nobody was interested in reading that kind of stuff (the promotional web post for the broadcast attracted 492,000 listeners.) Here is a Transcript of Broadcast. The MP3 of the broadcast is too long for this website but anyone interested can send me an e-mail at pugmire1@yahoo.com(subscription to www.dropbox.com a prerequisite.) There is also some preparatory material available, most of which was not used, but will hopefully be of interest:: Paul Halter's Questions and Answers; Soji Shimada's Questions and Answers .
Articles
2017-_09_01 Publishers Weekly Talks With John Pugmire                                            It was very gratifying for me, a mere one-man-band Print On Demand publisher, to get my own interview with the prestigious PW. The occasion was a literary event: the first US publication of possibly the rarest book in detective fiction: Stacey Bishop's Death in the Dark, first published in London in 1930 by Faber & Faber, where T. S. Eliot was senior editor. The U.S. edition contains an Introduction by Martin Edwards, a very successful author in his own right and President of The Detection Club, and a fascinating Afterword by Mauro Piccinini, an expert on George Antheil (Bishop's real name). It turns out that the story behind the book is almost as incredible as the fictional work (although, in the interests of space, my references to Martin and Mauro–and LRI's two honkaku masterpieces–didn't make the final cut.)
The Top 50 Locked Room Mysteries
A November 2009 article by Jonathan Scott in Book and Magazine Collector which included Paul Halter's "The Night of the Wolf"
As recommended in 1001 Chambres Closes:
List of Locked Room Novel Masterpieces (*****)
List of Locked Room Short Story Masterpieces (*****)
List of Locked Room Novels Not to Be Missed (****)
List of Locked Room Short Stories Not to Be Missed (****)
The Locked Room Scene
A July 2010 interview with John Pugmire and Brian Skupin by Jonathan Scott for Book and Magazine Collector
A Room with a Clue
An analysis of Dr. Fell's Locked Room Lecture in CADS 59, published in December 2010. It tries to identify the stories that Fell alluded to, but which were not named. Anyone who can identify the missing links on the last page will receive a prize
Interview with Paul Halter
Patrick O's interview with the master
Japanese Detective Fiction
Thesis by Satomi Saito.
Ten French Impossible Crime Stories Available in English
If you never took French and/or don't need another struggle in your life, here are some novels and short stories
Wikipedia Locked Room Mystery
Useful overview
Ripping Yarns
Lenny Picker's excellent article about Our Jack, pre-announcing the next LRI publication
Paul Halter on Jack the Ripper: Paul's responses to Lenny's questions
Financial Times Article on Shimada Soji 2015_11_20
Did Conan Doyle Base Sherlock Holmes on a French detective who appeared 16 years earlier? Judge for yourself then buy The Killing Needle:  CADS75p41-44